Freedom Network USA
Championing a human-rights-based voice.

Freedom Network USA (FNUSA) is a national alliance of experienced advocates advancing a rights-based approach to providing services for survivors of sex and labor trafficking in the United States. Through developing local and national networks, engaging advocacy and increasing public awareness, the organization strives to end human trafficking. We are thrilled to be their strategic partner in helping them to strengthen a message that is deeply rooted in addressing human trafficking.

A message with impact.
With a strong mission and growing audience, FNUSA defined a range of communication needs to amplify visibility and awareness across its national network. As part of this, it required clear, robust messaging to describe its mission, vision and work.
Our team worked closely with FNUSA on their perception and awareness across their key audiences. After diving into the goals of the organization, and facilitating a national survey of FNUSA members, we worked with them to solidify a messaging platform to anchor all future internal and external communication.
A strong
visual identity.
To support this messaging, FNUSA embarked with our team to develop a new look and feel that reflected the organization's voice and mission. Our team readily accepted the challenge.
The resulting logo is comprehensive yet simple – harkening to several images including a flame, a stylized dove, or in its simplest form, an "F" for the organization's name. All figures represent the brand: confident, strong, resolute, while emitting a sense of connectivity and hope. FNUSA is ultimately a connecting organization – uniting professionals in different industries to address human trafficking.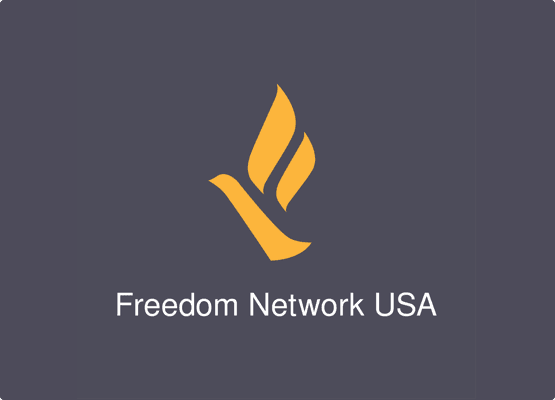 Bringing it all together.
FNUSA's heightened brand awareness and further connected membership network created an organic need for a dynamic site to elevate the profile of the organization and better serve existing members. Our team created a fully responsive mobile website to serve as an informational resource on FNUSA's work, milestones, mission and vision. To connect members nationwide, the site also includes a members-only portal that includes intuitive information sharing tools and real-time communication functionality.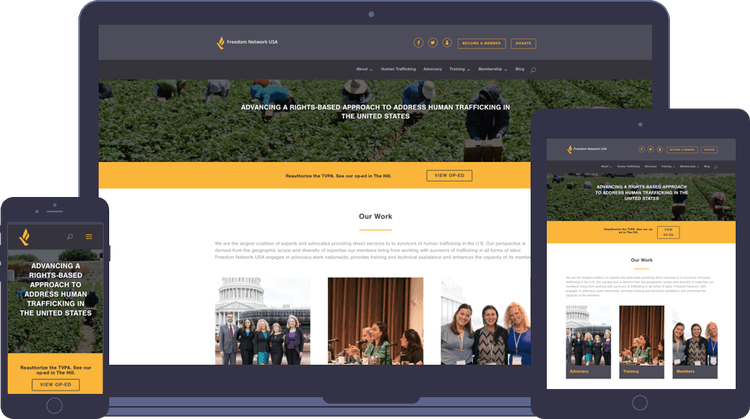 Increasing engagement on all platforms.
Our work with FNUSA did not stop with the brand, messaging and website. Their work is built on empowering sex and labor trafficking survivors with choices and support that can lead to transformative, meaningful change. To this end, our team worked with FNUSA on content development, social media channel management and strategic counsel to bring audience education, engagement and action to the forefront of their work. Examples included managing, scheduling and advising Facebook and Twitter content, with real-time support at the national Annual Conference in 2016. The organization saw a rapid increase in engagement that led to all-time highs – hitting a 7,000-follower milestone on Facebook and increasing Twitter impressions to 26,000.
Our team also helped establish a blog series, positioning FNUSA and its members as thought-leaders through member profiles and a new "Industry Insights" content series, which provides commentary on policy, advocacy and timely issues that help move the needle in human trafficking.