Five Star Urgent Care
Plattsburgh Grand Opening
Five Star Urgent Care, one of Upstate New York's fastest growing providers of immediate medical care, has been a proud client of ours since 2011. Within this time, we've served as a dedicated marketing resource, seen them grow, expand and create healthy, thriving lifestyles throughout Upstate and Central New York. Their impact and success of expansion are unmatched – and they're not done yet.
Going and growing strong
As their growth continued, Five Star Urgent Care became a sister company to Aspen Dental, and it was determined that Plattsburgh, NY would be the destination for Five Star's tenth location. With a neighboring area of over 120,000 people and families, there was only one existing urgent care center to support them, thus positioning Five Star to easily and immediately absorb the needs of an under-serviced community.
Making the opening grand
We quickly got to work in creating a marketing plan that encompassed both traditional and digital marketing, leveraging print, radio and web ads to start spreading the word about a new Five Star Urgent Care in the neighborhood. A robust PR strategy was also developed to educate the public on the new location's service offerings. We took into account their service area and driving distance, along with key attributes of the typical Plattsburgh patient to forge a way forward.

A healthy dose of outreach
To maximize Plattsburgh's awareness, we developed an integrated strategy for Five Star to announce and promote their newest location. A two-pronged approach to messaging used for all advertisements: coming soon and now open. We purchased, drafted and designed all print, radio, Facebook, search engine and banner advertisements to saturate our target audience across multiple communication avenues.
A tactical media outreach strategy was constructed to help ensure media attendance and solidify earned media placement before and after the grand opening. From inviting state and local elected officials to ordering flowers and balloons, we devised a step-by-step run-of-show for Five Star Urgent Care's staff to ensure all pieces of the ribbon cutting ceremony went smoothly.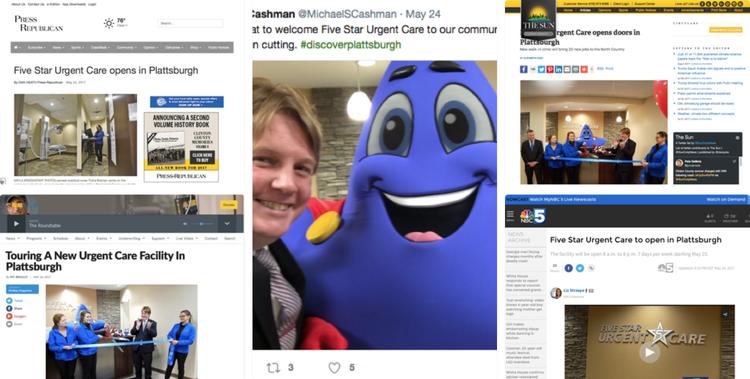 The community's shining stars
Ultimately, the Grand Opening in Plattsburgh was a success. Earned media yielded stories in The Press-Republican, Sun Community News, WAMC, WCAX and WPTZ, resulting in approximately 450,000 media impressions. Ads run through our targeted media strategy earned 900 total reach points (TRPs) with an average frequency of 13.1, resulting in the new center seeing a record 25 patients – more than any other facility has seen on its first day.
More and more communities are receiving Five Star Urgent Care centers, with a forecast of an additional 20 centers to be opened by 2018, which means more and more patients will be able to stand behind Five Star's cause and care – just as we do.