43North
Heralding an entrepreneurial ecosystem.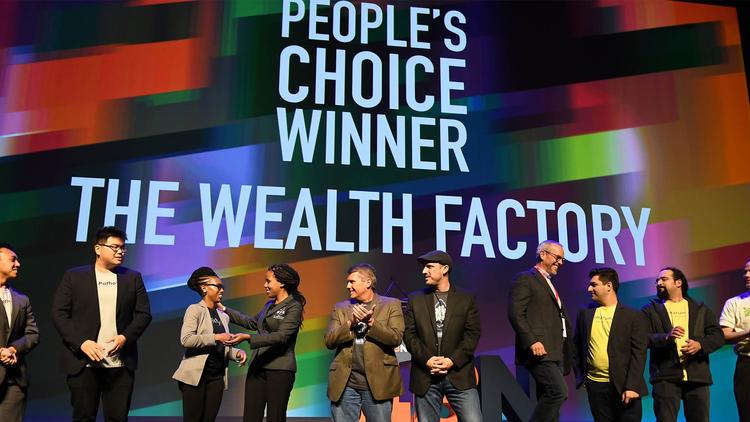 As the "$5 million startup competition," 43North is a leading global-business-plan competition founded in 2014 as part of New York State Governor Cuomo's Buffalo Billion investment strategy to ignite economic development in the Buffalo Niagara region. Annually, it awards $5 million in cash prizes to some of the world's best entrepreneurs and startups, with incentive for winners to relocate to Buffalo to build their businesses.
In its first three years, 43North sought new, innovative approaches to elevate global reputation and visibility for the competition and its growing list of world-class startup alumni. The challenge: Develop a local, national and global media campaign that increases visibility for the competition, attracts quality applications and establishes Buffalo as a world-class destination for innovators and entrepreneurs –a huge undertaking for even the most prominent of communities.

The 19 Ideas approach.
Expectations were high in the inaugural year. 43North offered an unprecedented dollar amount for a business plan competition. In terms of geography and population, Buffalo was an unlikely candidate for a global startup hub. And with investment from New York State, the spotlight shone on 43North to deliver on its promise.
Our focus turned these high stakes into opportunity. The premise for telling this story through media was simple – Buffalo, a historic U.S. Rust Belt city undergoing a renaissance, is open for business. In the subsequent weeks, months and years, this mantra served as a quintessential anchor for every story told.
To keep the 43North narrative fresh and compelling with journalists, our storytelling needed to be broad enough to capture the competition's differentiators and personalities, while specific enough to show progress.
A city on the rise.
43North was positive proof of the investment and belief in Buffalo's readiness as a next-generation startup hub. A prevailing thread in our outreach followed the competition's connection with the city's economic development. This included highlighting new partnerships forged between 43North winners and city organizations, discussing the "Golden Horseshoe" business collaborations between Western New York and Southern Ontario, and an open invitation to select national reporters to visit and tour Buffalo to witness the city's resurgence in-person.
Holistically, these strategies tied to a simple premise: As billion dollar companies set up shop in big markets, a new generation of innovators is turning to midmarket cities like Buffalo.
On the road.
43North leadership didn't take broad exposure for granted. Where they visited, we followed. From Toronto, New Orleans, Cleveland and many more, we leveraged their roadshow stops as an opportunity to engage and educate regional media about the burgeoning promise and impact that 43North offered to startups in their markets. We explored the Rust Belt relatability with Cleveland. The cross-border kinship with Canada. The alternative solutions to Silicon Valley and Boston. The competition represented much more than just Buffalo, and our team served as ambassadors to advance this story.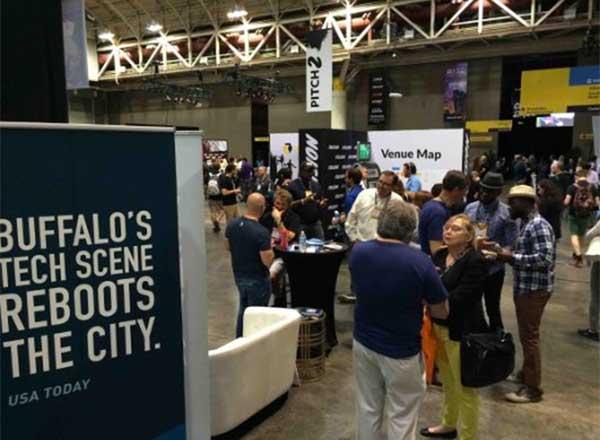 Showcasing work.
As 43North progressed and amassed dozens of alumni winners, focus shifted to the work. Was this Buffalo-based competition making good on its mission to mentor and build successful companies? Each year, our team engaged closely with winners to explore how their solutions industries including automotive, clean technology, healthcare, higher education, fashion and others stood amongst industry peers. We identified opportunities for authored content, interview commentary, milestone announcements and demo presentations – all of which were carefully mapped, paired and promoted with appropriate local and national media.

The results.
The results speak volumes. In its inaugural year, 43North received nearly 7,000 applicants – nearly 6,000 more than projected. Across three years, the campaign has generated more than 1,180 earned media stories – with national highlights including Fast Company, Financial Times, Forbes, Inc., TechCrunch and many others.
Perhaps most notably, The New York Times profiled 43North and Buffalo – culminating from an extended visit that included interviews and an in-person tour of the competition's Finals Week events, live onstage finalists pitching and awards ceremony. The story's ripple effect included a subsequent visit and story from Yahoo! News anchor Katie Couric.
*All photos courtesy of Nancy J. Parisi