Coming to us with a desire to reassess and realign their community presence, Allegany Rehabilitation Associates (ARA) quickly became a partner that our team at 19 Ideas would grow to learn from in myriad ways over the course of a year.
As a multifaceted entity with several identities, we set forth to learn about the organization, its people and the communities it serves – and, ultimately, how to speak to all three. Through our conversations, we came to find we needed to tackle problems much larger than inconsistency in branding: we needed to address and combat stigma associated with behavioral health at its core. The level of attention and services ARA provided needed to be positioned more like an ongoing continuum of care and less like an in-and-out, outcome-based provider like many in the same space.
The research,
then the writing.
Brand Story foundations:
Mission
Empower people with care,  connections and support for a lifetime of choice.
Vision
A supportive community where all people lead the lives they choose.
Value Proposition
An inclusive system of care that leads with empowerment.
We work with individuals and families to identify tailored social, emotional and behavioral health support for every step of their life journey.
The name.
Armed with to-date learnings and results, it became clear that one, unified name for their organization was paramount. Through our process of turning research into clusters, clusters into ideas, and Post-Its into real actionable options, we came up with a host of fitting names to again test with our identified audiences.
With the numbers and perceptions in tow, one name and its relative suffix option became a clear front-runner, and one that was felt to be truly indicative of then-ARA's future identity and growth: Clarity Wellness Community.
Next came the personification of this new name through visuals and positioning.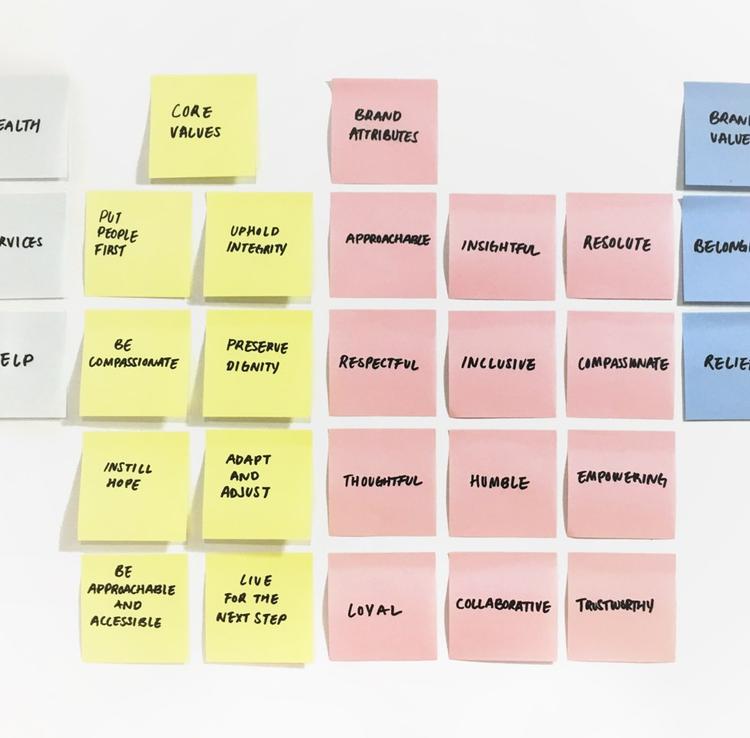 The tag and positioning.
Building out statements that would further bring this brand to life, we developed a tagline that would tell the story of Clarity Wellness Community and all who interact with it in more caring – less clinical – capacity.
This was unveiled alongside their positioning story, which was to be used as the starting line for all of Clarity's work, communications and actions forward.
Support Surrounds You
For every one person who walks through our doors, there is a cascade of support, positivity, and understanding — you are never alone on your journey through mental wellness. From where you stand, our loyal Clarity community stands with you: hand in hand, story to story.
We used the letter "I" as our cornerstone in two ways: from the point of view of the patient, they can see the network of support Clarity provides – from the point of view of Clarity, they can see a community who supports them in totality.
Our customized logotype was inspired by stonework and brings a sense of stability to the logo, further supported by a calming and positive color palette.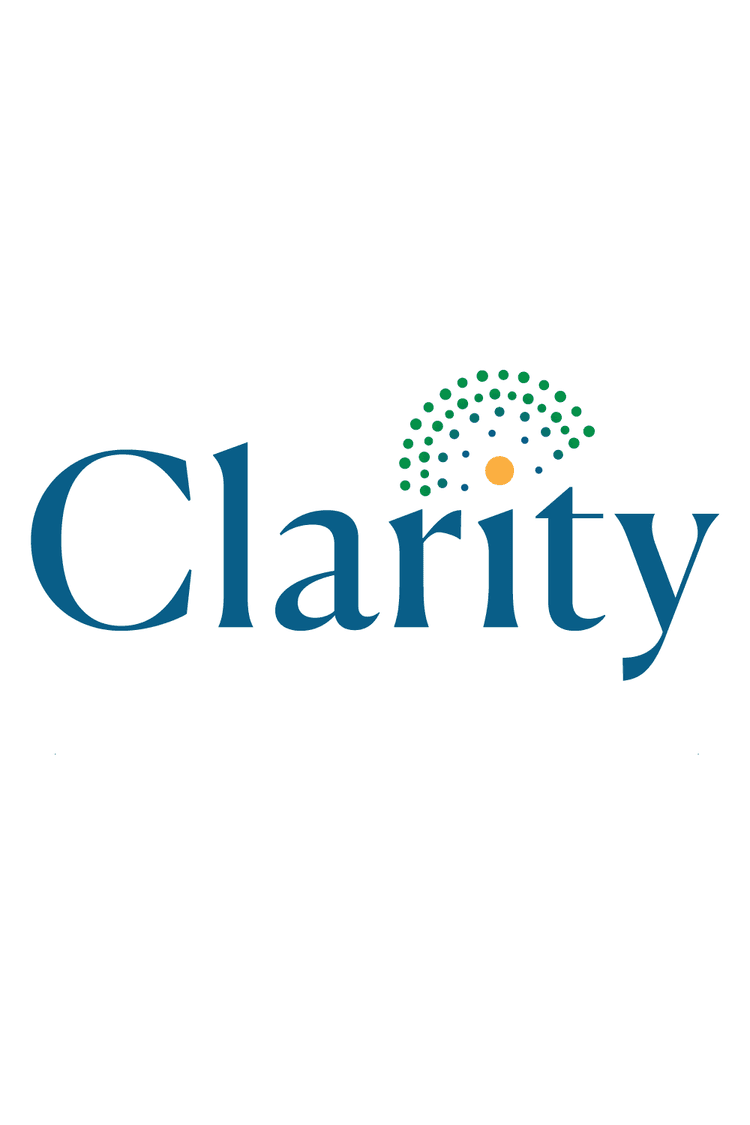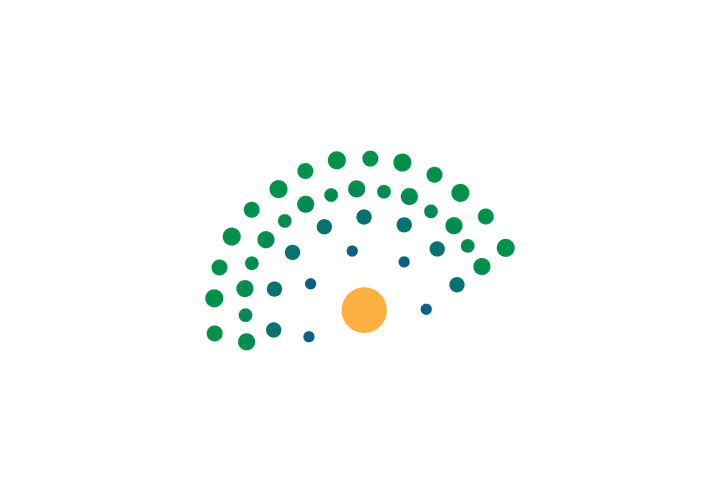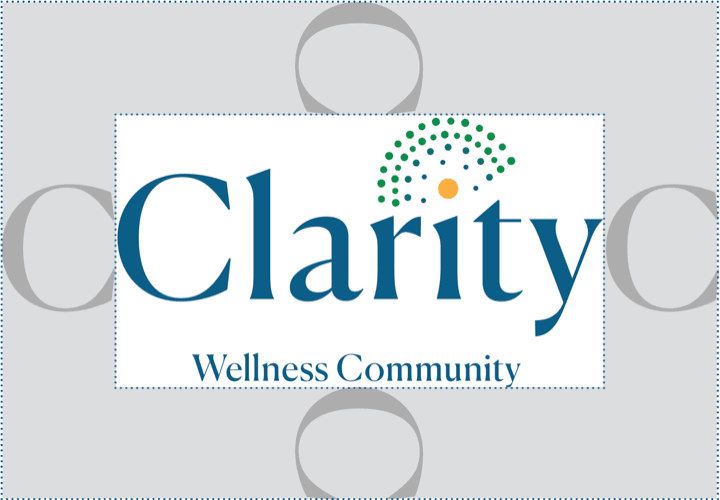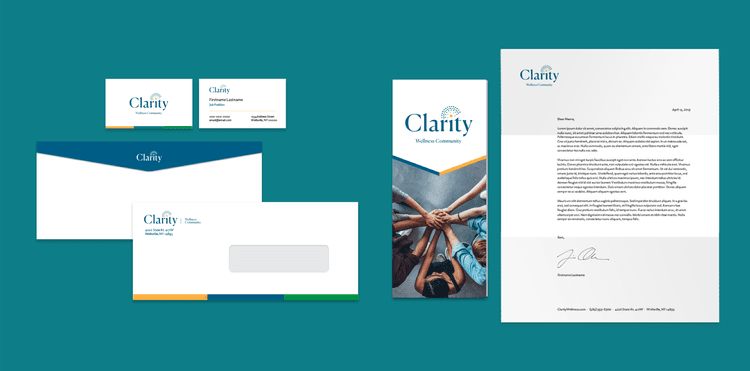 Our team was invited to present – and reveal – the new name and brand to the entire organization at their annual meeting held at Houghton College. A full staff was in attendance, and their curiosity was on full display as they prepared for the grand introduction to their newly minted organization.
During the day of our presentation, the internal teams at Clarity were able to coordinate a complete organizational turnover:
A new website featuring their new identity went live
Facility signage was installed
Business cards were distributed
Email domains were changed over
Branded swag was given to the team
This grand effort culminated in grand fashion. We were beyond proud of the work and left even more excited for what the future has in store for both Clarity Wellness Community and our continued partnership.